Chip Card Vending Machine
MAG CHP-3000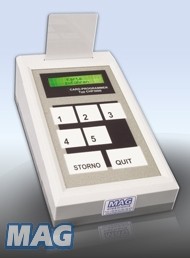 Features & Equipment:
handy programmer for the counter operation
Chip card upgrade via freely programmable keys
Cards erase function
various digital counters
Whether at camping sites the access control for laundry rooms or shower, whether for solarium, The CHP 300 allows you the freely programmable upgrade and depreciation of chip cards directly in the counter operation. This unit is the easiest to use.
Makes counter sale cashless possible.